Marne La Valée › Magny le Hongrie › Disneyland › Val de France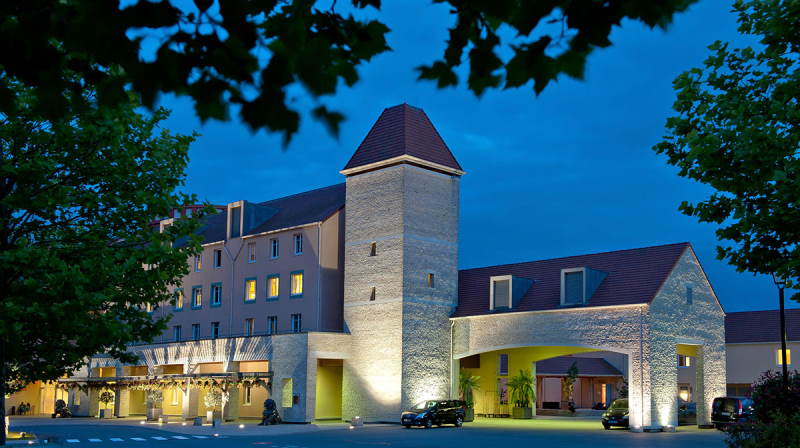 Disneyland Paris Explorers Hotel
Comming to France with your faimily to visit Disneyland Paris and looking for transfers to hotel Explorers ?
The best place where dreams come true for kids. Explorers hotel is the perfect choice to spend an unforgettable and magical experience. It is one of the well rated hotel on Disney's hotel list.
Transfers from Roissy CDG airport to Explorers Disneyland
There are several ways to get to Diseyland Explorers from Charles De Gaulle Airport.
When flying to France, the most efficient and fastest way to get to Disneyland is Paris Charles De Gaulle Roissy Airport (CDG). Main international airport in France, the biggest and well organized with 9 different terminals. It is the closest aitport to Disneyland Parc, only 40 km away.

If you still don't know how to get from CDG to Disneyland Paris, this guide to getting from CDG to Disneyland Paris is exactly what you need and announces the best tip. This article reveals you how to get from CDG Airport to Disneyland Paris with ease, speed and confidence. After reading this short guide, you'll see how easy it is to get from CDG to Disneyland Paris.

Taxis from Roissy CDG airport to Explorers Disneyland
Traveling with family, children and luggage is not often an easy mission. The best way is to book a trusted taxi service like Paris TioShuttle.com recommended from many users, who take charge of you at Paris CDG airport as soon as you arrive. No waiting, no queuing, you won't be lost. They arrange quality transfers, with their high standing vehicles and professional drivers. What better way to move around while chatting and admiring the landscape!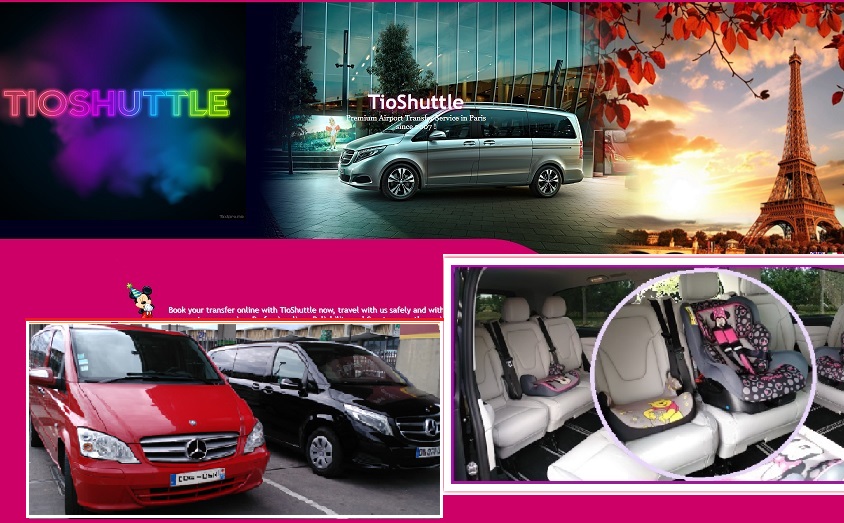 Getting with TioShuttle taxis from Charles de Gaulle Airport to Explorers
TioShuttle.com is a one of the best taxi firm based in Paris from 2008, offering excellent transfers for resonable prices from Paris Airports to Disneyland and Paris city.
Specilized for Charle De Gaulle and Disneyland transfers, our drivers are experienced and well know all hotels in disneyland and outer hotel surrounding like Val de Europe are hotels, same as CDG Airport flight airline's terminals and arrivals area.
☛ Fixed price
☛ Free cancellation
☛ Boosters and baby seats are free
☛ Free waitting
☛ Trusted service from 2008
---
Charles De Gaulle to Disneyland Explorers transfer rates in 2023
| Family of Passengers | Price in Euros |
| --- | --- |
| 1 / 2 / 3 pax | 65 |
| 4 pax | 70 |
| 5 pax | 75 |
| 6 pax | 80 |
| 7 pax | 90 |
| 8 pax | 100 |
Just book online at TioShuttle.com and you will quickly get a confirmation email.
Getting with public transportaion from Charles de Gaulle to Explorers
Getting with Train TGV
Getting with SNCF RER Parisian trains
Getting with Bus

Train Roissy-Charles-de-Gaulle - Marne-la-Vallée Chessy Explorers
TGV (High speed train ) to get to Disneyland
TGV (train à Grande Vitesse ) is the French engineeing creation with the fastest train in the world with record in 1990 at s peed of 515 kmh and 2007 at a speed of 574kmh. TGV is used to link France north to south and west to east of France.

SNCF inside France, Eurostar - England to France, Thalys - German to France use also TGV high speed trains.

You can reach Disneyland by TGV train from Charles De Gaulle airport. CDG TGV train staion is in Terminal 2, between T2D and T2E.
Disneyland train station is named Chessy - Marne la vallee.
How long does it takes by TGV train from Paris Charles de Gaulle Airport to Marne-la-Vallée Chessy Dineyland ?
Real time takes around 1h30mn. with the time you lost to find get to CDG TGV train Station Terminal by shuttles and trains avery 50mn and once at Chessy Disneyland station, you have again to take Disney shuttles to your hotel. it takes more than 1h30mn. Impossible if your are with kids and baggages.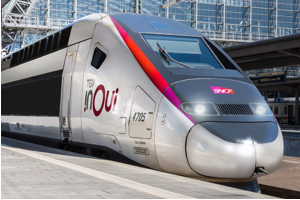 TGV train to Disney Chessy station takes an average of 15minutes ( station to station ) to get from Roissy-Charles-de-Gaulle to Marne-la-Vallée Chessy by train. You have the choice between 16 trains a day to get from Roissy-Charles-de-Gaulle to Marne-la-Vallée Chessy Disneyland. The fisrt train starts 8h00 and last train to Disneyland is at 19h30.
Usually to get to Disneyland Hotels from Charles de Gaulle Airport takes aproximatively 1h30mn. When you arrive to this massive Paris CDG airport, Depending your flight landing terminal you have to walk or to take a shuttle to get to the TGV train station Terminal. If your flight lands to the CDG-Terminal-1 or to the CDG-Terminal-3, you will have to use the shuttle CDGVAL between terminals to acces CDG-Treminal-2E. Other wise if your flight land to CDG-Treminal-2 (2A 2B 2C 2D 2F) you can just walk inside ittakes 5 to 10 min distance, except from 2G, you have to take a shuttle bus again.
How much is by TGV train to get to Disneyland from Paris Charles de Gaulle
A TGV ticket is about 14€ to 25€ depending the time and the train and also how advance you book your train. The TGV deserving to Chessy Marne la vallee from Paris CDG airport are intercity low cost TGV trains from North of France Lille or Bruxelles and going to souh of France Lyon Marseille etc..
Parisian Train RER from Roissy-Charles-de-Gaulle - Marne-la-Vallée Chessy Explorers

RER
Get from Charles de gaulle airport to Explorers by metered taxis

Taxis with meter from the airport.
Our recommendation : Use pre ordered private taxi service like Tioshuttle (https://www.tioshuttle.com) to have fixed price and to see a driver at airport arrivals door..
It is the quickest way to get from CDG airport to Hotels in Disneyland Paris
If you select the metered taxi option, metered taxis are available in the terminal of Charles de gaulle Airport. The price depends on the time, traffic and the distance. Highly charged at night. From CDG airport to Hotels in Disneyland parc by metered taxi takes about 50 minutes.
Major inconvenience with metered taxis
Long waiting queue lines
No child seats or baby seats
Every baggage is counted plus 4€
Not enough room for baggage of a family as most of the vehicles are cars
A car around 85 Euros excluding baggages and extra fees A van or mini bus around 105 Euros exluding extra fees for baggages
Get from Charles de gaulle airport to Explorers by Bus

Bus to Paris and Disneyland (Magical Shuttle)
The government bus: A lot of people also use Disneyland Paris to get from CDG to Disneyland Paris. Magical Shuttle is the name of this bus that takes people to and from Disneyland Paris. It has 75 seats and air conditioning. From 9 a.m. to 7:45 p.m., the Magical Shuttle will leave every 45 minutes. It goes to the Disney hotels and parks, the Val d'Europe, the Vallée Village, the nearby connected hotels, and the Chessy and Val d'Europe bus stations. It takes almost one hour to get from CDG to Disneyland Paris by bus. Go to the welcome desk between Terminals 2F and 2E at CDG Airport to board. There are free Wi-Fi and Disney movies for kids to watch on board.
Comparison of transfer rates in 2023 Charles De Gaulle to Disneyland Explorers
for a family of 4 passengers..
note : Magical shuttle and TGV are only available from 8h00 to 19h00.
| Transport option | Price in Euros | Duration |
| --- | --- | --- |
| Tioshuttle Taxis | 65 | 35mn |
| Bus Magical shuttle | 70 | 1h35mn |
| TGV train | 75 | 1h25mn |
| Parisian Train | 80 | 35mn |
| Metered taxis | 90 | 55mn |
Google Maps itinery Charles de gaulle to Disneyland Paris
Paris Roissy Charle De Gaulle Airport
Paris Charles de Gaulle International Airport (or otherwise named Roissy Charles de Gaulle Airport or under the initials of CDG Airport) is the second most important terminal in Europe.
Charles de Gaulle airport has three Terminals.
Terminal 1 which welcomes European and international companies (Lufthansa, Air China, United Airlines …).



Terminal 2, the most imposing because includes several other terminals operating mainly with international flights (British Airways, American Airlines, EasyJet, Air France, Delta Airlines, Flybe …).
Finally, Terminal 3, manages flights to international destinations and the Schengen area, with mainly low-cost companies (Vueling Airlines, Air Transat, Jet 2 …).
The complex, named Roissypôle, is made up of CDG best restaurant, lounge, shops, CDG airport hotels, offices, and a RER B train station "Aéroport Charles de Gaulle 1". Shuttles are available to travel between terminals and Charles de Gaulle airport hotels in Roissy-en-France. Cdg taxi service, minibuses and Disney buses from Charles de Gaulle airport offer you their transfer service for Paris (Eiffel Tower, Notre-Dame, Champs Elysées, Montmartre …), or park Disneyland.